This beautiful Brazilian Slate tiled floor was installed in the kitchen of a house in Barrow-in-Furness, Cumbria; the slate has been previously sealed with a number of products including Varnish and the overall effect was inconsistent making the floor dull and had done little to bring out the true beauty of the natural stone. Additionally varnish is quite brittle and easily scratched by furniture etc. so never a good choice for sealing a floor.
The situation needed to be remedied so during my visit I did a small test to strip off the old sealants, clean the tile and re-seal; the effect was transformational so they booked me to come back in a few weeks' time to finish the job.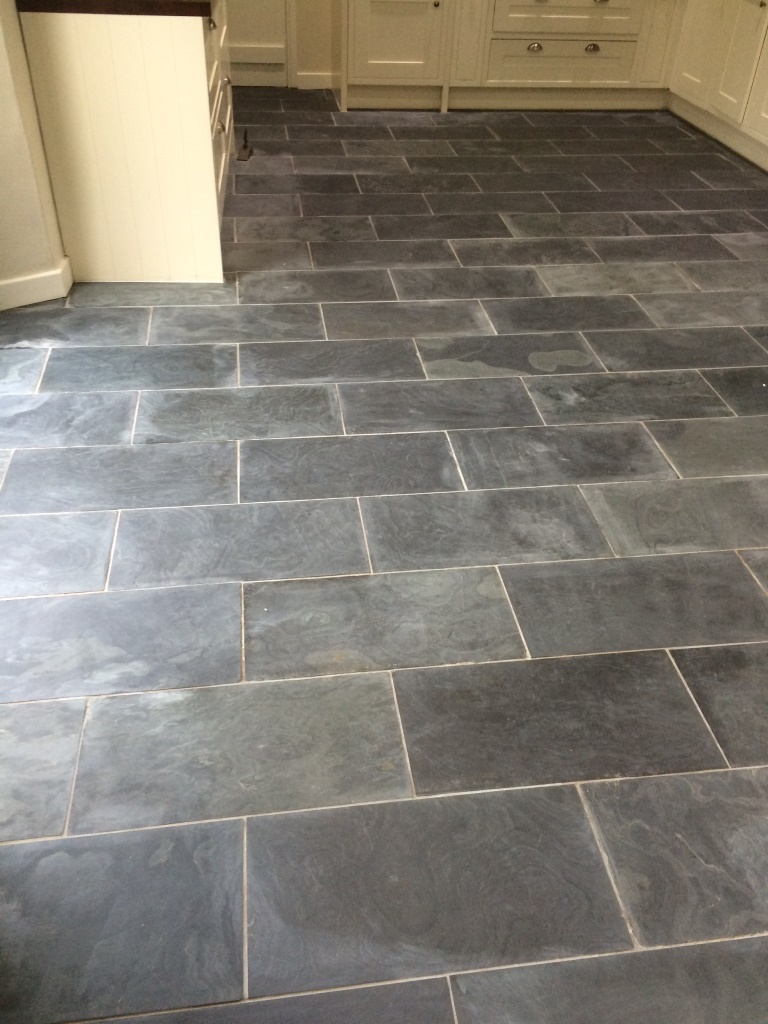 Removing Varnish from slate floor tiles
To transform the floor and guarantee the final appearance its necessary to remove all the previous products applied to the floor stripping it back to its natural state and then seal again. So I got started stripping off the varnish and other sealants from the floor slate using a dilution of Tile Doctor Remove and Go which is a tile friendly product designed to remove coatings from natural stone. The solution is sprayed onto the floor, left to soak in and then agitated using a floor buffer fitted with a black scrubbing pad. The soiled solution is then rinsed away and removed using a wet vacuum.
This process removed most but not all of the varnish and sealers so the next step was to apply NanoTech UltraClean which is a gel that you apply and leave for 30 minutes before adding water and agitating with a scrubbing pad. This did the trick and now not only was the slate clean of all coatings the grout had come up nice and clean as well. The whole floor was given a thorough rinse to remove any trace of product and then dried as much as possible using the wet vacuum to soak up the water.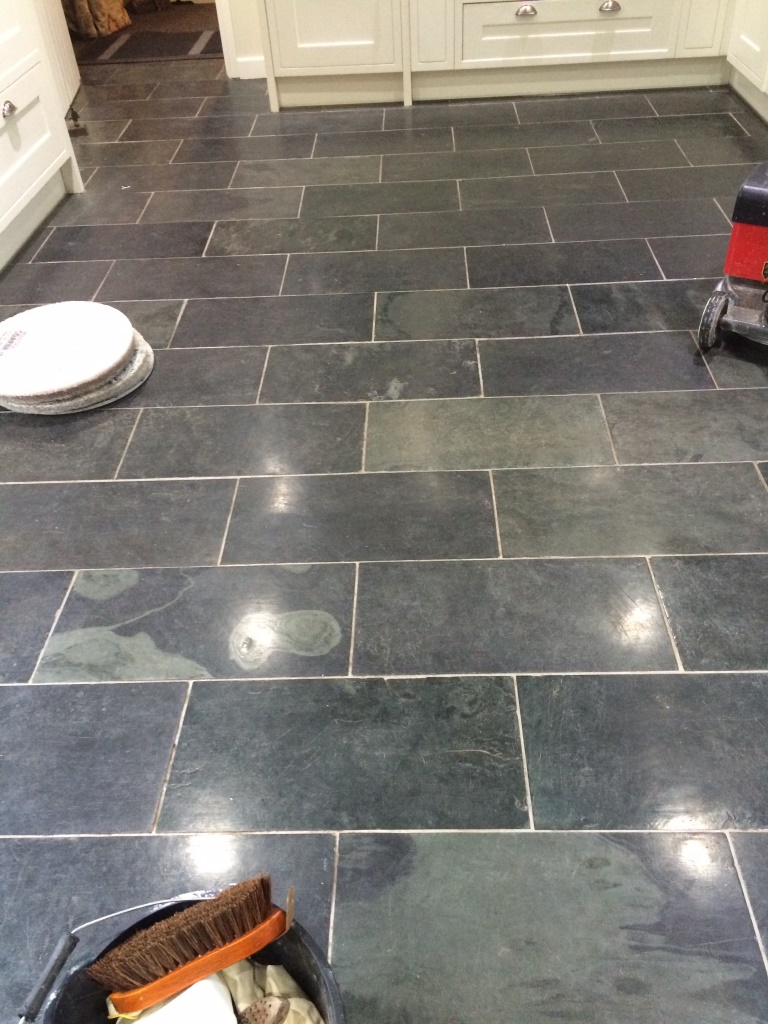 Sealing Brazilian Slate Tiles
The floor was left to dry off overnight and I returned the next day to seal the tiles checking first with a damp meter to ensure they were no longer damp. All was well so I proceeded to apply the sealer with a paint pad applicator. For this we had agreed on Tile Doctor Seal and Go which is ideal for slate as it really does transform the look of slate and adds a nice satin finish, the Slate was quite porous so five coats were needed in total.
I think you will agree the Brazilian slate tiles look much improved; certainly the customer was happy with the results. Before leaving I gave them some advice about aftercare and what products to use when cleaning the floor in future for best results.
Brazilian Slate Floor Cleaned and Sealed in Barrow-in-Furness