The customer from Grange Over Sands had taken up a musty smelling carpet that had been in place for many years over a Black Slate tiled floor. After taking to the internet to do some research he had worked out that the pointing would need to be re-done, the stone deep cleaned and then a breathable sealer put in place. Using a breathable sealer on an old floor is very important as it won't have a damp proof membrane and so must be allowed to breathe. If the moisture can't rise through the floor, it will accumulate and reach out to the walls causing rinsing damp which can be most unpleasant and result in mould.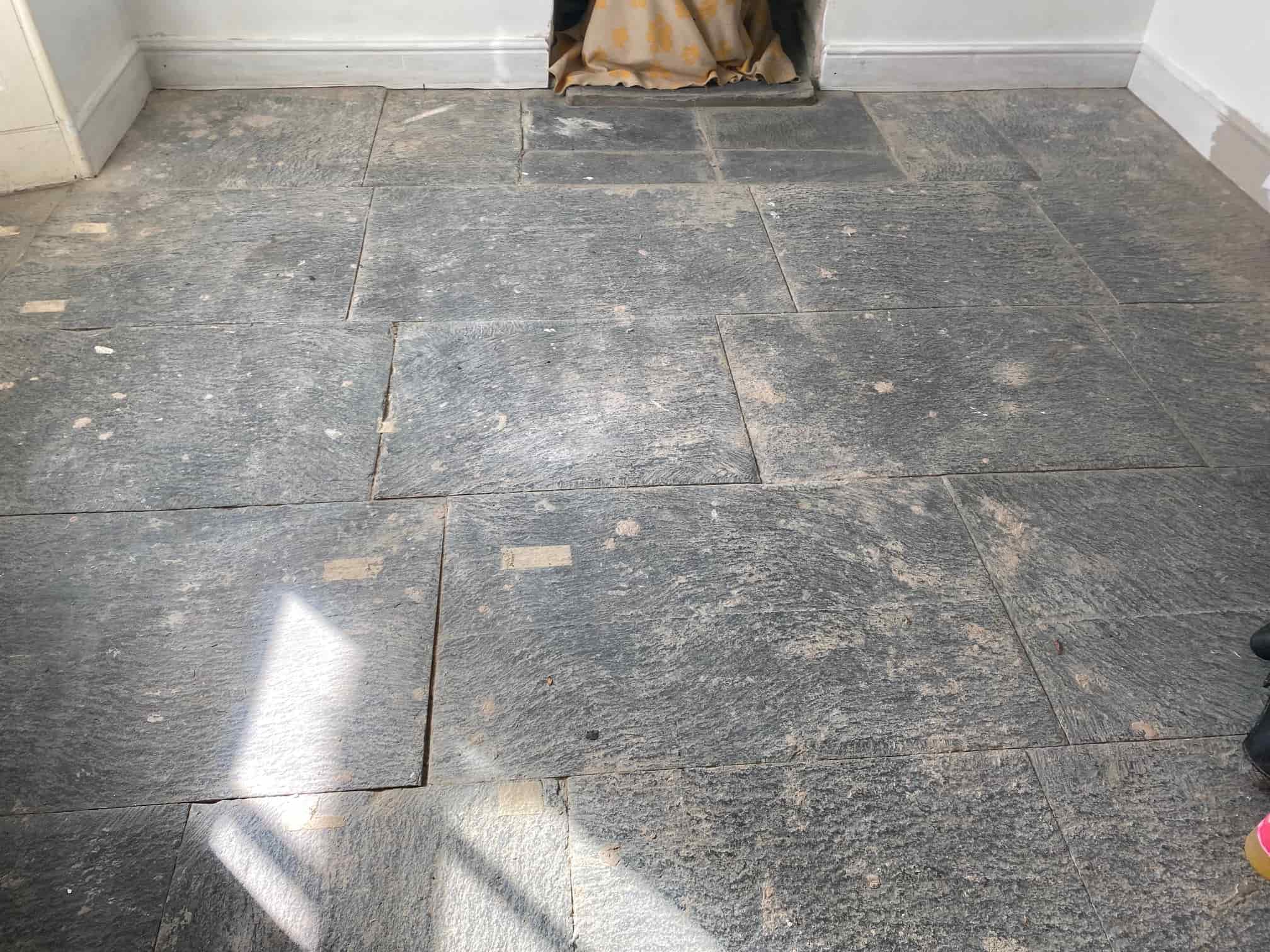 Realising this was a lot of work to do on his own we were asked to quote for renovating the whole floor including sealing. Whilst I was there surveying the floor, I also noticed the slate slabs were slightly uneven with small height differences between the stone tiles, something we call lippage which can be a trip hazard.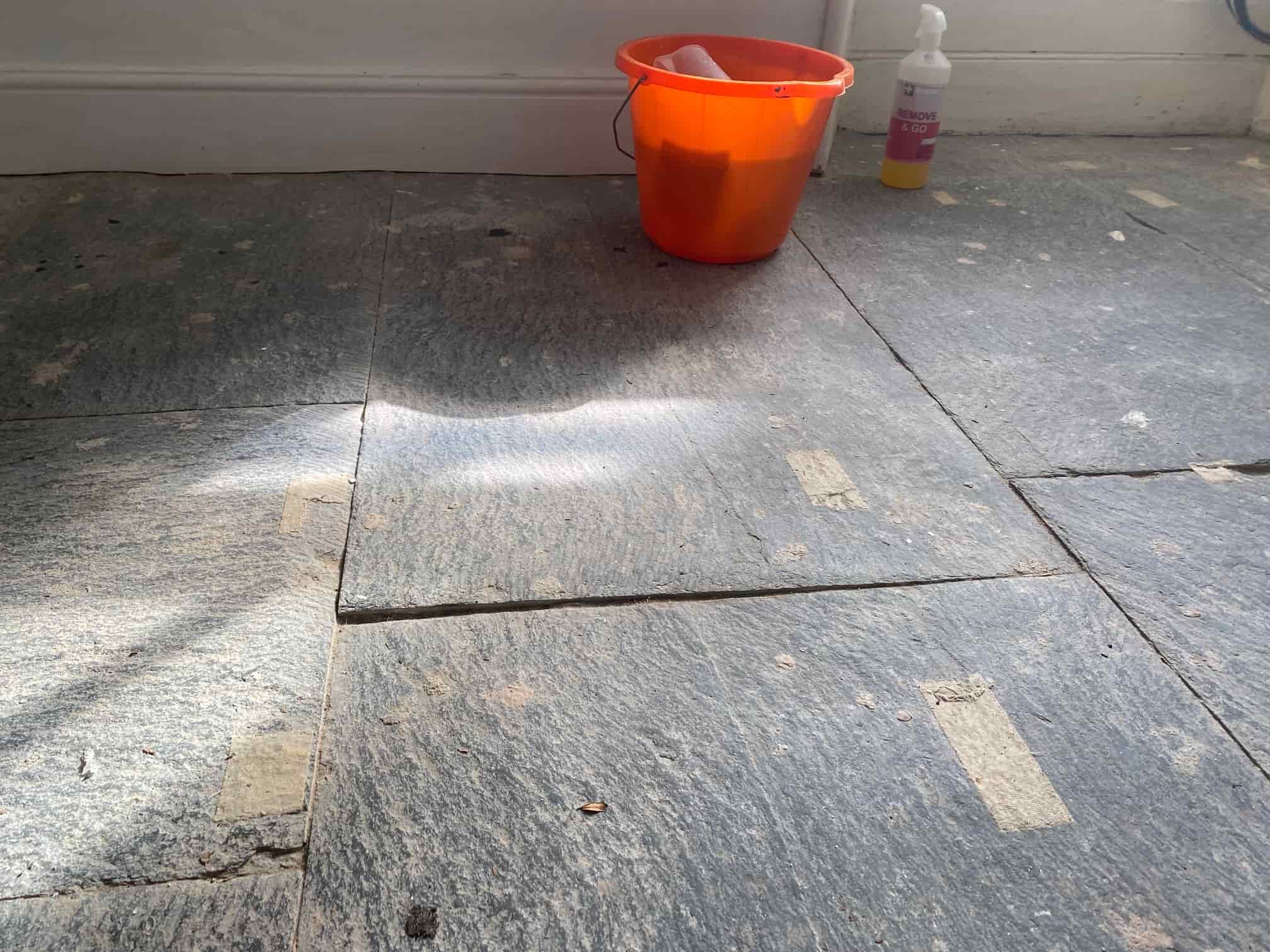 Speaking with the owner I discussed the lippage problem and how it could be resolved using a process Tile Doctor invented called milling which uses very coarse diamond encrusted pads to grind away up to 4mm of unwanted stone and then refinish the surface. Happy to go with my suggestion out quote was accepted and a date arranged for the work to begin.
Milling Black Slate Flooring Level
We use a heavy weighted buffing machine to mill the stone, it weighs about 55kg when fully loaded and the extra weight ensures the coarse diamond pads make good contact. The process starts with a 50-grit DRB Milling pad to cut into the stone and remove the lippage, only water is used to help lubricate the process and once done the floor is rinsed and the soiling removed with a wet vacuum.
This process is followed with a 100-grit DRB pad and then a 200-grit DRB which hones the stone and gives it a smooth texture. The other advantage of using these pads is by removing the top layer it also takes the dirt with it leaving a new clean surface.
Next step was to knock out the old pointing with a Titan Breaker tool, it's a noisy process but much of was already loose or missing so it was easier than it sounds. The old pointing was replaced using a modern flexible product that is also breathable.
The new pointing was allowed to cure overnight and then we called back to finish that stage of the restoration by working in a dilution of Tile Doctor Remove and Go with a 200-grit milling pad. This step is designed to remove any sticky texture left over for the pointing and then we give the floor a final rinse with water and vacuum off the excess.
Sealing Black Slate Tiled Floor
The floor was left to dry off overnight and we came back for a 3rd day to seal the slate which was the final stage in the restoration. Before doing so though we like to check the moisture levels of the stone to make sure its dry enough. We don't recommend applying a sealer to damp tile as it the results can be patchy.
To seal this floor two coats of Tile Doctor X-Tra Seal were applied, this product is oil based which is perfect for Black Slate as it helps restore the colour and adds texture to the stone. X-Tra Seal is also breathable and so will allow moisture from under the floor to rise through the stone and evaporate at the surface so no more musty damp smell.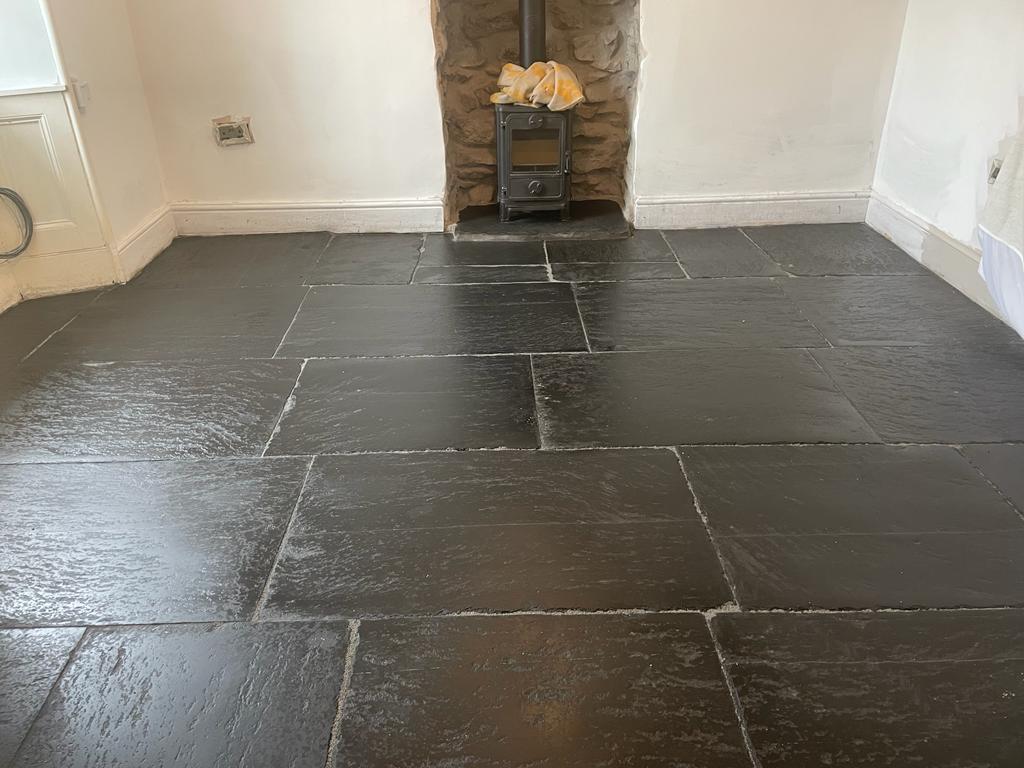 Once the sealer dried the room was transformed, additionally the newly milled finish will make the stone a lot easier to clean and maintain unlike the rough texture it had before. This was a great result when you consider this is an original slate floor over 200 years old; original features like this are very much sought after so a good investment that's a natural fit within the older building.
I always mention to my customers the importance of using a PH neutral tile cleaning product for aftercare cleaning and not to use a bleach-based cleaning products which are simply too strong and will prematurely damage the sealer given time reducing its protective qualities and appearance.
Professional Slate Floor Restoration in South Cumbria