The floor of this property in Beetham had been covered with carpet and underlay for what the client believed was between 25 and 30 years. Now under new ownership the carpet had been partially removed to reveal an original Red and Black Victorian tiled floor hidden underneath. Before considering other options, the customer wanted to investigate having it renovated and preserving as an original period feature so they called their local Tile Doctor to see what could be done.
We have a long history of successfully restoring old Victorian floors back to their original state so did not anticipate having any issues. Having said that however you can never be sure what your going to find with old floors like these so where possible we like to visit the property to run a few tests before quoting. Older properties do not have a damp proof membrane therefore damp was an obvious consideration and so before running any cleaning tests we took a few damp readings from the floor. We worked out a quote which the client was happy with and we set a date for the restoration.
Cleaning Repairing a Victorian Tiled Kitchen Floor
To start with we had to hack up the old black underlay, which had been glued down to the floor, this was hard work but had to be done. We then worked on removing the remnants of the underlay and started cleaning the whole floor with a weighted buffing machine, a black buffing pad and Tile Doctor Remove and Go to breakdown the glue.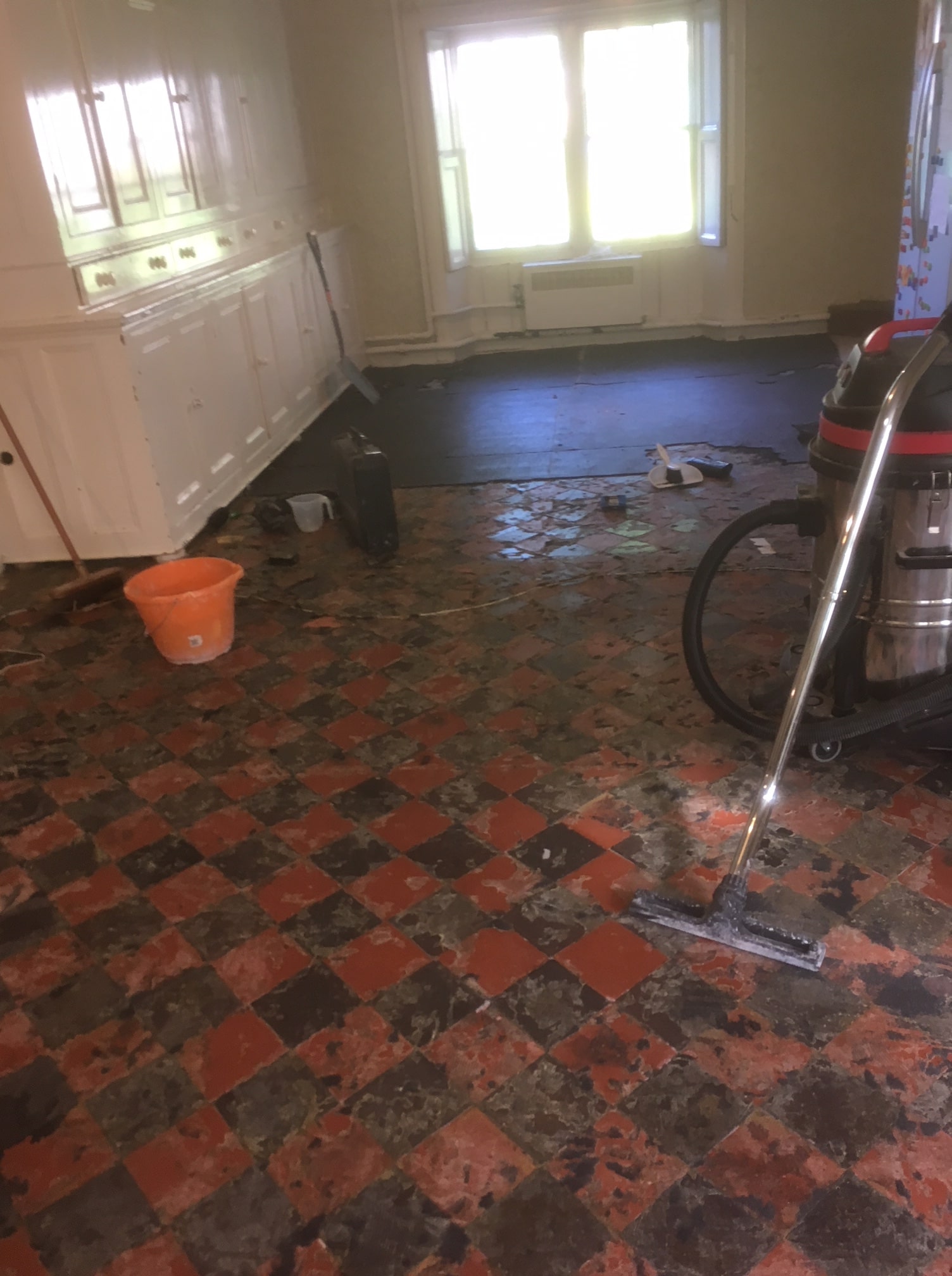 Once the majority was removed, we went a bit harder with the deep clean as it still didn't look clean enough so we switched to milling pads, starting with a 100-grit, then 200-grit and finished with a 400-grit diamond pad. The soiling was rinsed away and then the floor was given and acid wash using Tile Doctor Acid Gel. This last step is designed to neutralise any alkaline salt issues, aka efflorescence, that may be have been trapped in the tile over the years.
Sealing a Victorian Tiled Kitchen Floor
When choosing a sealer for a floor with no damp-proof membrane you have to be aware of the need for moisture to rise through the floor and evaporate at the surface. The moisture readings we took on our first trip out to the property did indicate damp around the edges of the room even after being allowed to dry for quite a while.
To allow for this you need to use a fully breathable sealer, so we advised the use of Tile Doctor Colour Grow. This sealer also enhances the natural colours and will protect the tile from ingrained dirt by impregnating the tiny holes in the clay tile with sealant. Using a non-breathable sealer on a floor like this would prevent it from breathing and result in rising damp as the trapped moisture is forced out to the walls. Worst case tiles can be destroyed by the rising salt issues.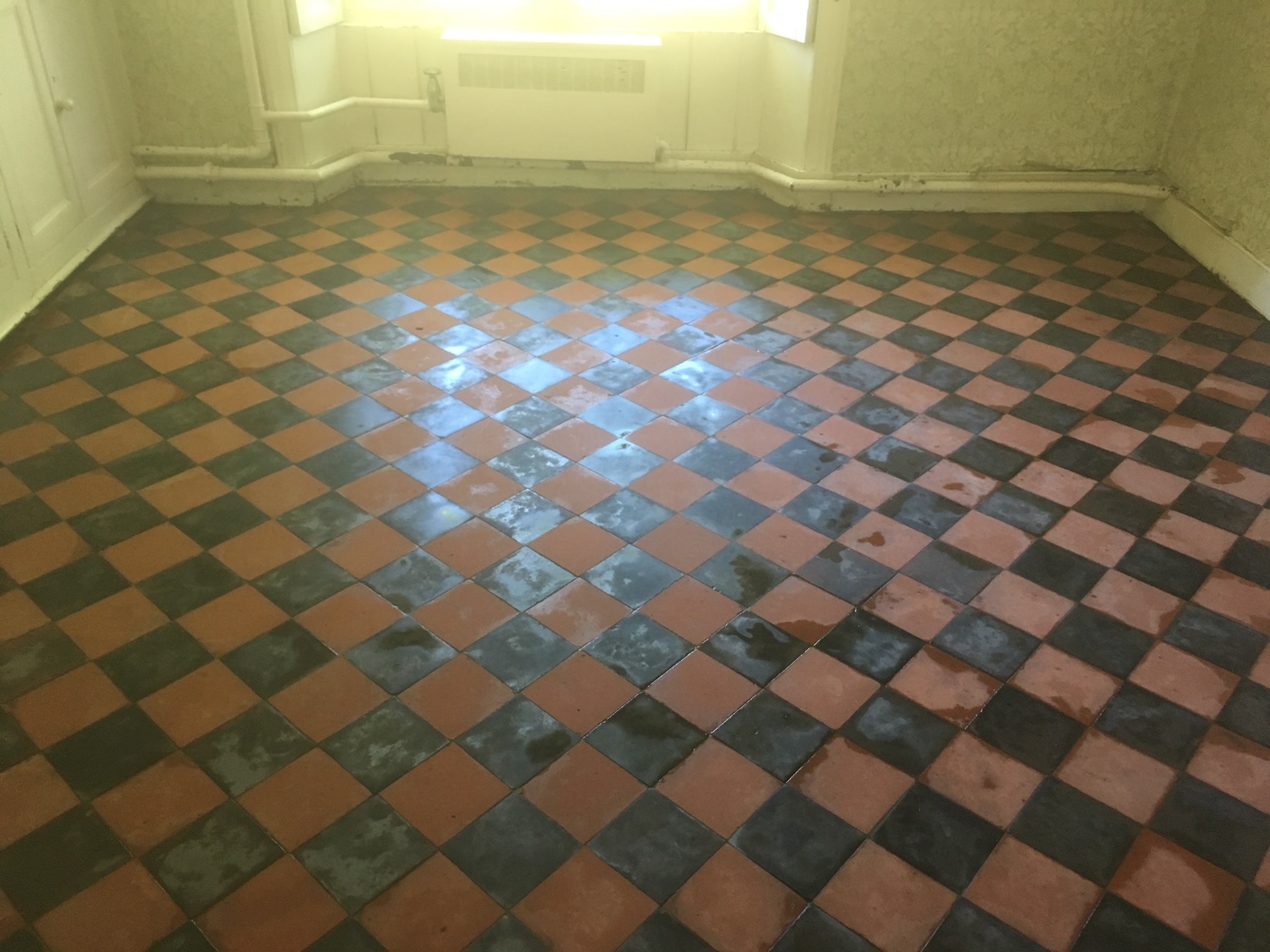 It was quite a big floor and it took longer to clean than we had planned for. The client wanted the kitchen fitted before being sealed in case the fitter made a mess, so we returned later to seal the floor with four coats of Tile Doctor Colour Grow. Unfortunately, it didn't occur to me take photos afterwards so the pictures on this page are before it was sealed.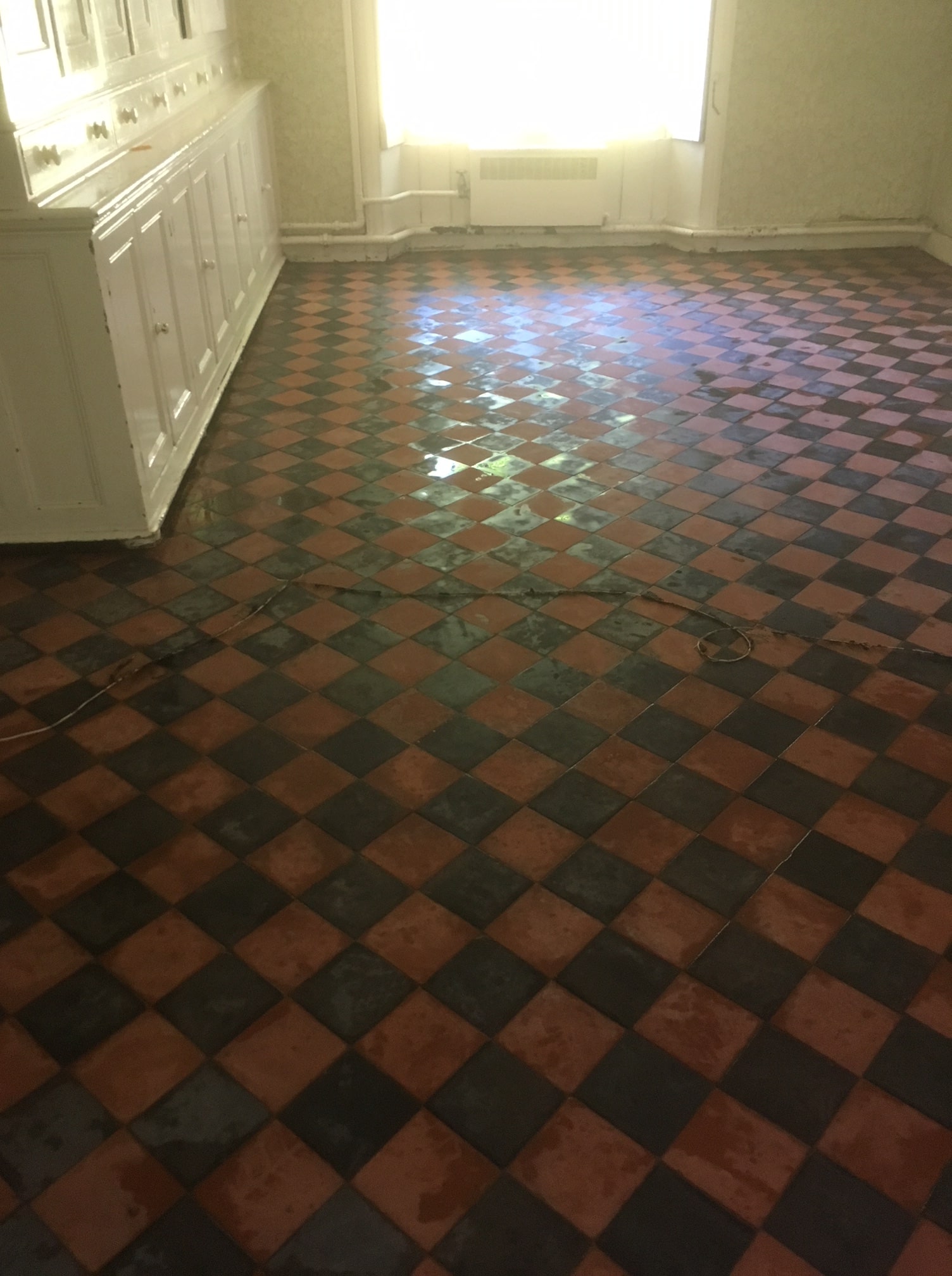 Before leaving we discussed on-going cleaning and so I recommended Tile Doctor Neutral Cleaner which having a neutral Ph will not prematurely erode the newly applied sealer. Its mild enough to use daily and leaves a nice fresh fragrance.
The client was very pleased with the newly restored floor and glad they could retain the period feature of the Victorian tiles which was much more in keeping with the property than the awful carpet that had been laid previously.
Professional Restoration of a Victorian Tiled Kitchen in Lancashire